Welcome to Water Saving Week
Waterwise is excited to be hosting our annual Water Saving Week for the sixth year running, particularly because this year we are focusing on something very close to our hearts – the vital link between climate change and water efficiency. We want to spread the word about how important saving water is for coping with climate change, keeping our environment healthy, and helping our communities to thrive.
Each day we will be focusing on a compelling reason why saving water is so important. As always, there will be lots of facts and information to be shared, as well as ideas and tips to help you become a keen, green, water saving machine!
Search #WaterSavingWeek on social media, explore the website to check out the daily themes, try out some of our water saving hints and tips, and get involved!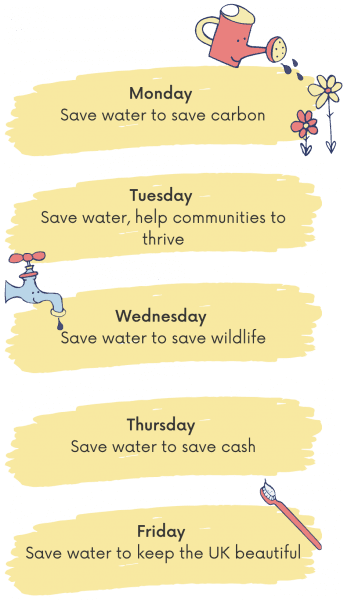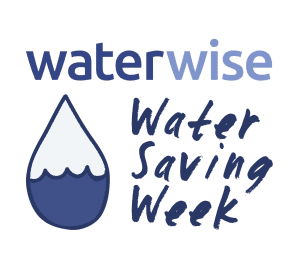 The UK has less available water per person than most other European countries.
London is drier than Istanbul, and the South East of England has less water available per person than some African countries. Even Scotland, Northern Ireland and the North of England have experienced water scarcity in the last few years. Surprised?
Climate change, population increases and changes in lifestyle have led to increasing pressure being put on our water supplies. As a result, it is more important than ever that we take care with how we use water. Taking positive action now can help to ensure that there is enough water to go around: for our neighbourhoods, for our businesses and for the environment.
Save water to save carbon
Our use of water and energy are closely linked. Operational emissions from the water industry account for nearly 1% of the UK's total emissions. And a major source of emissions is from using hot water within homes.
Reducing your time in the shower or the amount of hot water you use for cleaning dishes therefore has a significant impact on your personal carbon footprint. Being thrifty with the amount of hot water we use means that we can save water, reduce our carbon footprint and fight climate change, all at the same time.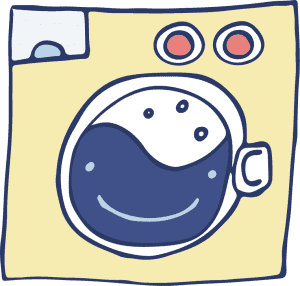 Save water and help communities to thrive
Drought threatens our water supply, in turn threatening the wellbeing of our communities. In addition, there is projected to be an 8.7 million increase in population in England and Wales alone by 2050. It is therefore essential for us all to be using water wisely to ensure there is enough to go around, now and in the future.
As water resources become scarcer, building new infrastructure like reservoirs and desalination plants, or finding new sources of supply, becomes increasingly expensive. If we all save water, we can reduce pressure on existing infrastructure and offset the need for more.
Being a responsible member of your community means using water wisely, so that there will be enough for your kids, your neighbours, the local farming community, and your favourite businesses.
Save water to save wildlife
Much of the water that we use in our homes is taken from rivers and lakes that wildlife in the UK rely on to survive. More than one in five water bodies in England are suffering or at risk from too much water being taken from them to supply households and businesses, and more than half of the species that depend on UK rivers, lakes and wetlands are in decline, with 13% of our freshwater and wetlands species threatened with extinction.
Species like the Short-eared Owl, Long-tailed Duck, Tundra Swan and Eurasian Otter are struggling to survive, in part because of human management and use of the water bodies that they live on or near to.
Unfortunately, climate change will make the pressure on UK rivers, lakes and wetlands even worse by increasing the frequency of severe droughts and reducing summer and autumnal flows by around 15-20% in many rivers. By using water wisely we can reduce the amount of water taken from water bodies that UK wildlife rely on for their survival.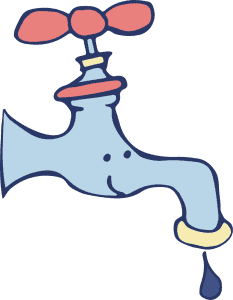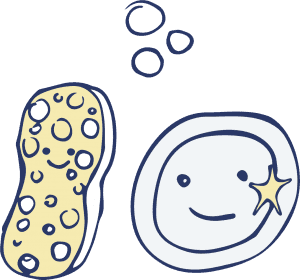 Saving water saves money! Installing simple devices such as water-efficient taps and showers will save both water and energy by minimising the use of heated water.
An efficient showerhead could reduce household bills by up to £120 per year. Leaky loos waste around 400 litres of clean water a day, and sometimes more – the equivalent of having an extra two people living in your house! And the way you use water also reduces bills – try knocking a minute off your shower, and use a water butt to collect rainwater to water the garden.
Save water to help keep the UK beautiful
Climate change is causing an increase in the occurrence of prolonged periods without rain across the UK. It's also projected to cause an increase in average temperatures in all seasons and across all regions of the UK.
Hot and dry spells will increase, which could result in less water being available in the growing season to support optimum growth. Hoses and sprinklers typically use up to 1,000 litres of water per hour – more than 12 baths!
Good news: the average roof collects about 85,000 litres of rain in a year, enough to fill 450 water butts with free rainwater. Using water butts, watering cans and other smart ways to keep our gardens lush means that we can help to keep the UK beautiful!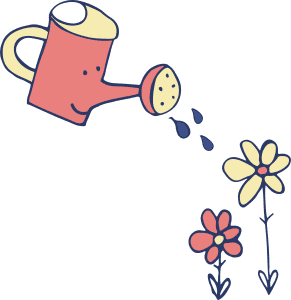 Follow us on Twitter @Waterwise to keep up to date with all the latest content. You can also follow Waterwise on Facebook, Instagram and LinkedIn and go to www.waterwise.org.uk for more on what we do.
Take part in Water Saving Week by showing your support and using the hashtag #WaterSavingWeek. Click here to download an 'I support WSW' or 'We support WSW' post graphic to help your business take part.
Check out the latest Water Saving Week blogs and vlogs here.
Press and media should click here to see our press release and get in contact.
Water Saving Week is run by Waterwise, a UK not-for-profit that wants to get people using water wisely everywhere, every day.