Waterwise Community Checkmark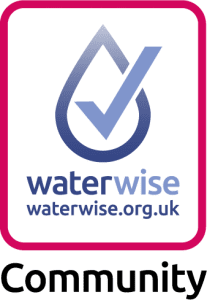 The Waterwise Community Checkmark exists to highlight and celebrate work that a particular community is doing in Water Efficiency.
The Community Checkmark is awarded to communities which are engaged and active in saving water, that encourage water saving behaviours and particularly communities who have simple low/no cost measures to reduce water waste and encourage the efficient use of water in a variety of ways.
Why have we launched a Community Checkmark?
We are facing greater pressure on water resources in the UK due to climate change, population growth, changes in use and the need to protect the environment. A report by the National Infrastructure Commission set out a 1 in 4 chance over the next 30 years that large numbers of households and businesses will have water supplies cut off for an extended period of time. It estimated the economic impact of severe restrictions in England at between £25 and £40 billion. But there is another way, if we collectively manage our demand for water now we can create far more resilient communities.
Community projects are becoming more common amongst water companies and partner organisations who see the benefits of targeting one specific geographic area at a time to have the biggest concentrated impact. We want to drive best practice within these projects, to celebrate the best ones and allow others to learn from these and take their own community efforts forward.
The Community Checkmark is not just for water companies, any group or organisation which can complete the application form successfully can be awarded the checkmark (Residence Associations, Neighbourhood Forums, Local Amenity Societies, NGOs, Parish Councils.)

Why obtain a checkmark for your community?
Recognition of the fact your community is doing their bit to help the water resilience of the local area as well as contributing to country-wide water resilience.
Reporting and recording the work you do with the community will help document what you have achieved, keep you motivated to go further with your water savings and inspire others to do the same.
Rewarding the hard work you and your community have put into improving the water efficiency of the area and raising the profile of this important work through increasing visibility.
Realisation of all the elements you could include in a community scale water efficiency intervention. You can use our Community Checkmark Guide and have a look at our application form before you plan your project to make sure you are covering all elements of a "best practice" community programme.