UK Water Efficiency Strategy to 2030
The UK Water Efficiency Strategy to 2030 was prepared by Waterwise in 2022, setting out a cross-sector pathway to greater water efficiency. Increased water efficiency has an essential role to play in helping ensure we have enough water for people, the economy and the environment now and in the future.
Following extensive consultation, we have now published a strategy that builds on the work of the previous but sets out our ambitions for water efficiency through to 2030.
The strategy's vision is to see:
"A UK in which all people, homes and organisations are water-efficient."
Our water efficiency strategy to 2030
This document is a new UK Water Efficiency Strategy developed by Waterwise. It is a Waterwise strategy but it has been developed through engagement with government, regulators, industry and a wide range of stakeholders. It sets out a cross-sector strategy to deliver greater water efficiency in the UK by 2030, including:
Why we need to reduce demand – so everyone has an understanding of the challenges we face across the UK.
The objectives we want to achieve by 2030 – we have set 10 clear strategic objectives that everyone can play a part in achieving. We have outlined the reasons for these, what needs to change, who needs to be involved and how we will track progress.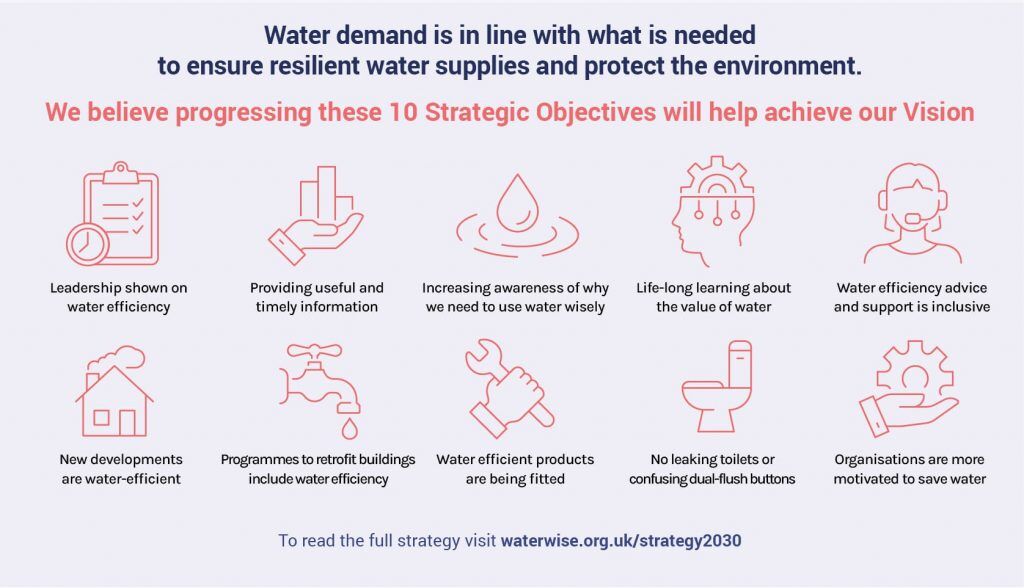 How we will monitor delivery of the strategy – A new Water Efficiency Forum along with an annual report published each autumn will ensure accountability, providing assurance that the right level of progress is being made and that intended outcomes are being achieved.
This strategy is focused on reducing water demand through water efficiency, water reuse and reducing leakage in properties.
Alongside this it is important there is a twin track approach to ensure we protect our water resources. Other organisations have developed route maps to reduce water company leakage and there are regional and water company plans that set out potential options for supply side infrastructure such as reservoirs and water transfers – this strategy does not cover those elements.
We will only be successful and meet our vision if we all work together across the UK – sharing successes and failures so we can learn and improve.
Meet with others – A Water Efficiency Forum will meet three times a year – a mixture of online and in-person events.
Take action – We are developing a Task and Finish Group or similar for each objective who will develop, monitor and manage an action plan.
Share your stories – we will be publishing case studies of activities that are supporting the strategy objectives here.
If you would like to be involved please email engagement@waterwise.org.uk